924 Garage " ... the best handling Porsche in stock form.", J. Pasha, Excellence

924 Carrera GT - model 937
The Porsche 924 Carrera GT, model 937, were designed by the factory for homologation for Le Mans. The project number was 937. Only 406 were built. The chassis numbers run from WPOZZZ93ZBN7 00 001 to 406. WPO is the world manufacturer code for Porsche. ZZZ tells us this is a Europe/RestOfWorld spec model. 93zbn7 is the internal Porsche model designation for the 924 Carrera GT. Z is a test code. B is model year 1981. N is the factory at Neckarsulm.
There was a GT, GTS and GTR. The motors were: M31.50/ 210hp/ 8.5CR, M31.60/ 250hp/ 8.0CR, M31.70/ 375hp/ 7.1CR. A GTS number would be wpozzz93zbn71nnnnn. A GTR is numbered wpozzz93zbn72nnnnn.
The GTR for 1981 was the proto944 motor with some significant differences. The twin cam had a fixed tension belt driving the intake cam, much more reliable than the production 944S. It was closer to a 924 in most ways. I have pictures as well. It has a hybrid 935 5-speed transaxle(similar to the 956/962). There were GTRs built with the 2.0 924 engine, but the intercooler and intake were very similat to the 944 as was the location and exhaust system with turbo. The engines for all mounted to the bodies with rigid mounts.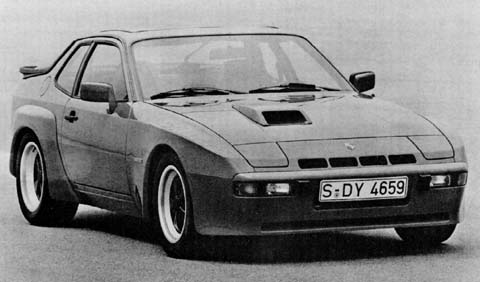 Take a look at the brochure which describes the Carrera GT technical details. Thanks to Jim Rogers for this fascinating document.
Peter Utzon has some pictures of a naked GTR motor up on his site: http://hem2.passagen.se/utzon/924E.html As you can see it ain't exactly stock turbo. The GTR is not a trivial undertaking should you want to try to duplicate.
Here is the salient feature of the GT. Of course, the holy grail of us all is to find a dusty box at Hershey with one of these inside:
Although there is more to the GT than the intercooler you can reasonably expect to reach similar power levels with your 931 largely based on using a cooler. To see pictures of both the Carrera GT and Carrera GTR intercoolers, click on the names.
Take a look here for a UK web: Carrera GT. Or here or more: Carrera Series

Chassis 356
Dave Jones of Bromely, UK, is the fortunate owner of number 356. He share's his good luck with us:

The UK cars (75) were registered and sold in 1981. I purchased the car by chance, I had owned an 85 944 coupe from new and was looking for an interesting 911 when I spotted an Ad in a national car magazine offering for sale a "Silver 924 turbo GT" - it was a dealer selling it on behalf of the widow of the previous owner - it was priced lower than any 924 Carerra GT I had ever seen - they traded between £17,000 and £20,000 over here - he told me the only other one he has sold had been green!!- I then realised that he thought it to be a turbo with extras - as Carerra GT's were only ever available in Red, Black or Silver.
I went and tested it - it ran quite sweetly except that synchro had gone on first gear. I got a great deal of history with the car, it had had two previous owners, the first seemingly had run it as an every day vehicle and had clocked up around 50k miles before selling it at three years old to the second owner. He had maintained it mostly through franchised dealers and specialists - it would appear that it was a weekend or special occasion car for 11 years and although nowhere near concours appeared to be an honest example - it had 72k miles on the clock. I checked out its credentials with the PCGB which has a Register secretary for Carerra GTs - who at the time owned three!! one in each colour!!! - he verified that it was indeed no 356 of 406 and that the previous owner had not been a PCGB member - he gave me a few tips on what to check for and on my second inspection all appeared to be fine. The only items missing are the Brake ducts which run from the front air dam to just in front of the front discs (or rotors)
Since buying the car (over 4 years ago) I have met several other owners of the known 35 cars to be still in the UK - there may be more but the club is not aware of their whereabouts - at Porsche meetings, notably one held in July 1996 where we had over 10 Carerra GTs on display. There are at least two cars which have very low miles and are in immaculate showroom condition and lately there have been one or two cars a month coming up for sale in the PCGB magazine.
Since buying the car I have had some minor work undertaken and replace a few items - I run the car on standard Fuchs alloys - 7x16 front and 9x16 rears with Yokohama A008R 205 55X16 front and 245 45x16 rears - Under acceleration it sits down on the suspension and becomes very informative through the chassis and steering as to what is going on at either end - under braking there seems plenty of warning of impending wheel locking or loss of traction. The Yokos stick much better than the mixture of Goodyear and Dunlop rubber which the car was purchased with. I have had a few problems with over-boost switches failing, but I think we hit upon a bad batch!! - I take the car to a non-franchised specialist who looks after another Carerra GT, owned by a racing friend of mine, and several other specialist models such as a brace of 959s and a 911 GT2. The car always attracts attention both on the road and in race paddocks - in fact a friend who owns a Countach parked next to me at a race meeting and was very disappointed to see a group of people looking at my car whilst his was neglected - so much for investing in Italian metal!!
I still have not got around to sorting out the first gear synchro problem - but at least I have now located a source of parts - they were unavailable for some time. I have replaced the back section of the exhaust, the starter motor, intercooler gaskets, over-boost swicth and of course fitted a contemporary alarm and immobiliser. The bodywork is in good, if not immaculate, condition and I want to schedule a tidy-up and respray next summer - locating the "gaskets" which fit between the rear arches and the body has been a nightmare, however I now have some. Excluding the specialist body parts most other items are available except that you have to determine which Porsche or VAG model was the original donor !!
One observation I have is that the panel fit and general build quality is not up to the standards you expect of Porsche - my 924 Turbo has better shutlines and paint finish than the Carerra GT - some informed source tells me that this is because the cars were made on special production lines and that the cars were intended to be raced rather than admired - a possibility I suppose !!
The UK contingent of Carerra GTs were assembled with a "luxury" pack which included electric windows, mirrors, and a sunroof, although there is at least one example in Silver, reputed to be the first in the UK that was destined for AFN - the then UK importer - and raced in a domestic sports series, which did not have a sunroof. This car has shown up at a few meetings and its owner has a pictorial record of the major rebuild following a horrendous racing accident.
There are a few "celebrated" UK owners of Carerra GTs - notably the Earl of March (who owns Goodwood House and Race circuit) who listed the car as his favourite in a national car magazine poll - I recollect seeing that his car was up for auction but don't know whether it sold. The other famous owner is Derek Bell - the multiple Le Mans winner - who I believe was given his car by the factory - this is in Carerra GTS spec which I think pumps out 275bhp.
Comparing the performance of my Carerra GT to other cars I own, I believe it to be still giving around 200+bhp and 0-60 of approx 6.5 seconds.

' GTs In A Line' Walton Hall Extravaganza July '96 where there were more 924s displayed than ever before to celebrate the introduction of the model - over 200 924s in total in various guises. Photo courtesy Dave Jones. Dave's car third from right.

Having just got a scanner and digital camera to play with I've been able to create some colour pics of the 937 - herewith my first amateurish set.
| | |
| --- | --- |
| | The Big Book of Porsche was the Kent Region Porsche Club GB display stand at the 1998 Paegent of Motoring - we came second to the Jaguar Enthusiasts Club stand - always rivalry between us!!! - the display on the other side of the "Book cover" was Paul Dennis' 930 Turbo Martini |
| | The Porsche Day at Brands was snapped during my negotiating "Bottom Bend" at Brands Hatch circuit in Kent in 1998 |
| | The GTs in a line was taken at Walton Hall Extravaganza July '96 where there were more 924s displayed than ever before to celebrate the introduction of the model - I believe there were over 200 924s in total in various guises - mine is third from right - the two on the extreme right belong(ed) to the 924 Carerra GT secretary Ricky Ceaser who had three in total !!!! |
| | The Front and Profile pics were taken at Brands Hatch |
| | The Rear shot was taken at the awards ceremony at the 1998 Paegent |
Please do with these what you wish - I am planning on having some work done this year on my GT - primarily the replacement of first gear and synchromesh and also intend having some cosmetic bodywork attention.
My 931 race car will also be enjoying the benefit of some work notably the installation of a new charge-cooled motor - Colin at 930 Motorsport here in the UK has extensive experience of tuning these enjoyable machines and has given my invaluable advice on where to begin to eek out more horses !!! - I've already treated the car to a new set of 964 Carerra 2 - wheels which fit the 931 bolt pattern and look really neat, 944 Turbo front adjustable race suspension and new steering rack. If anyone knows where I can source a RH Drive fibreglass or carbon fibre dash I love to know.
Happy New Century
Dave

Chassis 166
Hidden away somewhere in the Black Forest....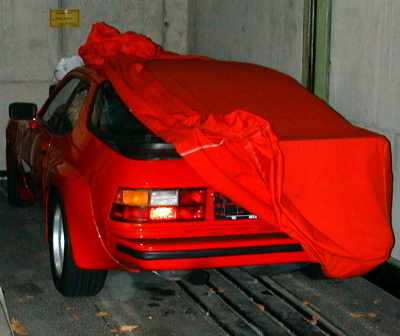 Tom Voights



Chassis 286
Colin Ingram colin@cingram.demon.co.uk
11 Jun 2000
I just got my Carrera GT - it needs some work - it's number 286. I also bought the GT and Turbo Official Workshop supplement from GMUND books here in UK. It shows the detail of how the real rear arches go on.
Basically, they cut the wheel aperture in the body side outer about 2inches higher than on the standard car, and mated it up with what looks like a new arch inner. I could describe it better or do a rough drawing if anyone is interested.
Mine came with 7J X 16 fronts, 8J X 16 rears. The wheels stick out way beyond the steel body side - I can't see how you could use an unmodified body shell with this wheel equipment.
A previous owner fitted 245/45 X 16 on the rears to balance the handling ( cf 225/50 X 16 standard)- they look very wide, but fit inside the standard polyurethane Carrera GT arches.
As on my article on 924 racing - anyone know of a GT front end PU for sale in the UK?
Regards,
Colin