924 Garage " ... the best handling Porsche in stock form.", J. Pasha, Excellence
933: The 924 Kit Cars
Water-Cooled Winners

These cars were designed by the factory to race in SCCA D Production Championship starting in 1979. The Porsche project number of these race cars was 933. Only 16 were built by the factory. However, if you had the right connections, you "could" buy the parts as a kit from Porsche to convert your street car into a fully race-ready 924. At least that's what they wanted the SCCA to think.

The laundry list of (major) parts in the "kit":
| | |
| --- | --- |
| | 933 motor with 931 head and 11.3:1 compression |
| | Kugelfischer mechanical fuel injection |
| | Intake manifold for Kugelfischer injection with quad throttle bodies |
| | Oil cooler |
| | Tuned header, exhaust, and megaphone (exit RH side of car) |
| | 5-speed snailshell-type transmission |
| | Race suspension including rear coilovers |
| | Bilstein monotube shocks and struts |
| | Reinforced A-arms and trailing arms (see below) |
| | Components to lower car by remounting suspension |
| | Heavy sway bars |
| | 15x7" BBS 3-piece rims |
| | Solid aluminum mounts for engine, transmission, and suspension |
| | Fuel cell |
A semi-complete layout picture of these major parts is below.
This in addition to a number of small assorted goodies, like a 10000RPM tach, racing steering wheel, etc. A somewhat more detailed parts list is linked.
The cars won the D Production Championship a number of times in the early '80's at the hands of experienced Porsche drivers like Doc Bundy. However, the SCCA discontinued running D Prod not long after, and the cars were instantly made obsolete. Except for some cars lucky enough to stay in D Prod trim thanks to running vintage, being in areas where DP was still run locally, or owners wishing to preserve the cars in original form, most DP cars were upgraded to GT3 specs and continue to race in SCCA and/or the Porsche Club of America's Club Racing program.
In case you were thinking a DP would be easy to replicate with big wheels and fender flares; take a close look at this rear suspension arm:

You can barely see the original trailing arm in there some where. It is completely boxed on all sides. The bearing area is reinforced and the mounting tabs for the 930 brakes added. You can also see the spherical trailing arm bearing which replaces the stock rubber bushing, and the attachment link for the swaybar droplink.

Chassis 16
Serial number 16 below used to belong to Gordon Nagle; it is now in John Paton's hands, and being prepped again for use by Precision Motorsports, Califon NJ. Gordon ran is as #47 in PCA-GT5s and was the class winner at PCA Road America at the hand of Mike Mount this past weekend (Sep 1999).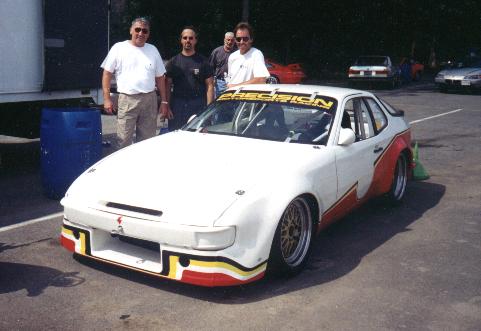 August of 1999 at Summit Point for the maiden outing following restoration. Gordon Nagle, Will DiGiovanni of Precision Motorsports, Mike Mount.
Gordon has restored this car to the original colours. This car was the only example built in Germany as the prototype for the DP series.
This car was the photo subject used in 'The Do-It-Yourself Porsche, The 924D", by Jerry McDermott, Panorama.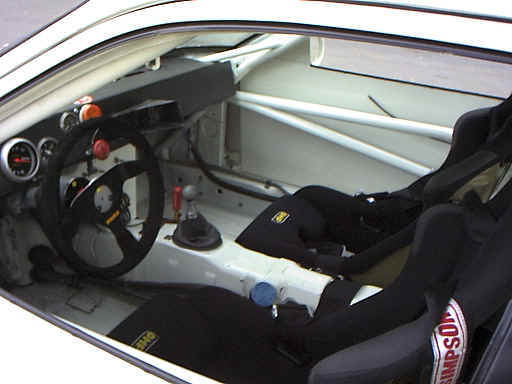 Chassis ??

Number 75 is currently run by Scott Sanda in SCCA GT-3 where it is a front running back-marker; and in GT-5 for PCA Club racing, where it is very competitive. Built and driven by Tom Brennan, it won the SCCA runnoffs in 1985.This is a factory DP924 that was never raced DP, but was immediately converted to SCCA GT-3. Scott got the car in February 98. It has been sitting neglected for 6 years. This was the only 924DP to win a GT-3 national championship
From Scott:
"Joe Hish has 4 DP 924's. He has one that he put a 16v 2.8L engine in and runs in PCA GT-4, and he just bought Vasak Polack's entire collection of DP cars and spares. 3 cars, at least one of which has never been raced. He is going to run these in GT-5 with me. 1 for him, 1 for his daughter, and 1 for a builder/racer named Mike Mount.

Chassis ??

Tom Scheuren, Diablo Racing, number 53 above, SCCA GT-3 converted 924DP. It was previously owned and raced by Stefan Edlis and Don Maluzio, (who now races trans-Am). Tom doesn't know who ran it originally or if Holbert's ran it themselves. He has told me that Doc Bundy may have driven it to the DP runoffs championship in 1980. He (Bundy) was with the Brennan team which won in 1981. The car was converted to a GT-3 car with a lot of work from David Finch who has won GT2 a number of times in his 944. The car will most likely return to the track in the middle of this year. The owner previous to Tom was Don Meluzio.

These great pictures were given to Tom by Elizabeth Ames. "A front and rear shot of my car, hers and one more racing 924 all parked together at Limerock." "Taken before I bought my car from Don Meluzio; It's a great shot."


Chassis ??

Clarke Hamerly: (Pittsburg, PA.), "This car was on the front page of PANO by itself in Dec 1981. Currently this car is in full 944 trim, both quarters and front end. I have seriously thought about returning it to 924 front end and quarters but Tom Brennan the original driver of the car has told me that speed will be seriously compromised. The car was on a factory race poster in 1981, one of 4 cars."

Tom Brennan still has one of the cars he ran in DP. When I last talked to him he was thinking about setting it up for SCCA E-production for this year.

Lets see, that accounts for 7 of the 16."

Number 14, Richard Howe. Pics at Summit Point 2000.